Course details
Fluffy meat ♪ Medicine soup 6 kinds / domestic vegetables 14 species ☆ Asian shabu-shabu 【Lamb meat】 All you can eat and drink!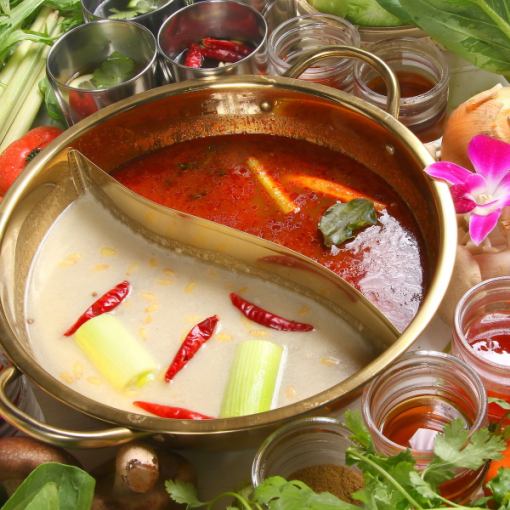 By using a coupon3000 yen
All-you-can-drink available

All-you-can-drink for 120 minutes! All-you-can-drink beer at 300 dollars · 31 kinds of lemon sour · drink drinks on request!
Reservation deadline

Until 22 o'clock on the desired date of coming to the store
Available days for reservation

Monday - Sunday - Public holidays - Holidays
14 kinds of domestically safe and safe vegetables! Enjoy the fun of choosing from calorie and indication of menu table ♪ You can also enjoy carefully selected cattle, you can enjoy at affordable price of 3000 yen!
Course menu
<How to eat ☆ Asian Shabu-shabu way of enjoying>
1. Choose a drink (including a drinking ceremony, so your wallet is safe ♪)
2. Choose two soups
■ Popularity No. 1 "Original Tom Yum Soup"
■ Firepot royal road ☆ Compatibility with meat Manjini favorite medicine serving in preeminent "medicinal serum soup"
■ Gastronomy Ranking 1st! Coconut milk flavor and spicey curry ◎ "Massa Man Curry Soup"
■ "White Sweet Pork Soup" which cloudy pork bone soup firmly boiled makes saltiness even more prominent
Grated on chicken glass fiber softly Ginger flavor "golden ginger soup"
■ Deep soup that used Sōda clause luxuriously "Supreme soup"
3. Choose whatever you want until the pan is ready
■ Raw spring roll
■ Fried Potatoes & fried chicken
■ Refreshing dessert
4 .. Choose your favorite from 14 kinds of domestic vegetables in the refrigerator ♪
~ Efficacy / Recommended Combinations ~
■ Anti-Aging "Nutrition & Beauty Recommended Set"
Evening lettuce · sweet carrots
■ Detox · Skin care effect "Pakuchi set"
Pakuchi · Mizuna
■ "Mushroom set" on a diet
Mature braise, large shimeji, thick shiitake mushroom, premises eringi, white egg
■ "Day-to-day vegetable set to enjoy the texture"
Soybean sprouts, onion greens, chicken vegetables
■ Immune power UP "sweetness stands out vegetable set"
Young cabbage · Sweet carrot · Evening lettuce
■ Perfect for dealing
Beef wheat's flat noodle
5. All you can eat
Lamb meat
All-you-can-drink menu
·beer
· ★ Premium Malts · Aroma Ale / Barley / Chandigafu / Black Eye
·wine
· Glass wine (red · white) / keel / kitty / carimocho / spritzer / wine cooler / homemade sangria / operator
· Shochu
· Sweet potato / wheat (water split · rock · carbonate · straight)
· [Choose cocktail 5 × 13]
· 【Strawberry wine · plum wine · peach wine · pine wine · cassis sake】 × 【carbonated water · water · rock · oolong tea · green tea · jasmine tea · apple juice · orange juice · grapefruit juice · cola · ginger ale · milk · whitewater 】
·Cocktail
· Mojito / Ginger Mojito / Mosccommure / Gin Tonic / Vegetable Sour / Kalua Milk / Lime Sour / Grapefruit Sour / Lime Sour / Oolong Hi / Green Tea High / Jasmine High
·Highball
· Super carbonate gym beam high ball / super carbonate angle high ball / beam lemon high ball / beam ginger high ball / beam cola high ball
· Original cocktail
· Tropical View / Ajima / Pastel Milk / Sea Suma Time / Legend B
· ★ 【31 lemon sour】 BASIC
· Punch Lemon Sour / Salmon Lemon Sour / Lemon Sour / Ice Lemon Sour / Grated Lemon Sour / Sherbet Lemon Sour
· ★ 【31 lemon sour】 cocktail +
· Coke "Lemon Sour / Ginger Lemon Sour / Lychee Lemon Sour / Cassis Lemon Sour / Mojito Lemon Sour / Calpis Lemon Sour / Vial Lemon Sour / Malibu Lemon Sour
· ★ 【31 kinds of lemon sour】 Original
· Gali Lemon Sour / Otsuka Lemon Sour / Strong Lemon Sour / Lemon? Lemon Sour / Lemon Tower / Goldfish Lemon Sour
· ★ 【31 kinds of lemon sour】 BEAUTY × ASIA
· Pakuchi Lemon Sour / Tom Yam Lemon Sour / Lemongrass Lemon Sour / Lemon Sour / Lemon Sour / Lemon Sour / Jasmine Lemon Sour / Vegetable Lemon Sour / Lemon Sour / Coconut Lemon Sour / Sampon Lemon Sour / Plum Juice Lemon Sour
· ★ Drink drink
· Sayu Cumin / Soy Coriander / Soy Sauce Cayenne / Coffee (HOT · ICE) / Frozen Yogurt / Frozen Coke
·Soft drink
· Oolong tea / green tea / Jasmine tea / orange / apple / cola / ginger ale / calpis / lemon squash
Coupons that can be used with this course
2018/11/26 update