Course details
【Asian cuisine favorite course】 Eat Tom Yum Kung & Fahita all seven items! 120 minutes drinking with 2500 yen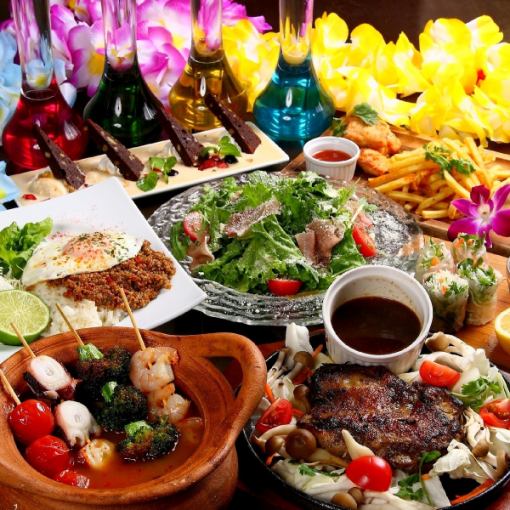 2500 Yen
All you can drink is 120 minutes
All-you-can-drink available

All-you-can-drink for 120 minutes! All-you-can-drink beer at 300 dollars · 31 kinds of lemon sour · drink drinks on request!
Available days for reservation

Monday - Sunday - Public holidays - Holidays
Recommended for people who like Asian cuisine, people who want to try international cuisine ♪ Enjoy international cuisine in Asian cuisine, especially Thai dishes such as Tom Yum Kung, Gaean, Gapao Rice etc!
Course menu
◆ Raw spring roll of the day
◆ 5 kinds of vegetables Cobb salad
◆ Potato (Pakuchi · Original · Chile)
◆ Fajita style Gaillard
◆ Eat Tom Yam Kung
◆ Gaparoles
◆ Today's dessert
All-you-can-drink menu
·beer
· ★ Premium Malts · Aroma Ale / Barley / Chandigafu / Black Eye
·wine
· Glass wine (red · white) / keel / kitty / carimocho / spritzer / wine cooler / homemade sangria / operator
· Shochu
· Sweet potato / wheat (water split · rock · carbonate · straight)
· [Choose cocktail 5 × 13]
· 【Strawberry wine · plum wine · peach wine · pine wine · cassis sake】 × 【carbonated water · water · rock · oolong tea · green tea · jasmine tea · apple juice · orange juice · grapefruit juice · cola · ginger ale · milk · whitewater 】
·Cocktail
· Mojito / Ginger Mojito / Mosccommure / Gin Tonic / Vegetable Sour / Kalua Milk / Lime Sour / Grapefruit Sour / Lime Sour / Oolong Hi / Green Tea High / Jasmine High
·Highball
· Super carbonate gym beam high ball / super carbonate angle high ball / beam lemon high ball / beam ginger high ball / beam cola high ball
· Original cocktail
· Tropical View / Ajima / Pastel Milk / Sea Suma Time / Legend B
· ★ 【31 lemon sour】 BASIC
· Punch Lemon Sour / Salmon Lemon Sour / Lemon Sour / Ice Lemon Sour / Grated Lemon Sour / Sherbet Lemon Sour
· ★ 【31 lemon sour】 cocktail +
· Coke "Lemon Sour / Ginger Lemon Sour / Lychee Lemon Sour / Cassis Lemon Sour / Mojito Lemon Sour / Calpis Lemon Sour / Vial Lemon Sour / Malibu Lemon Sour
· ★ 【31 kinds of lemon sour】 Original
· Gali Lemon Sour / Otsuka Lemon Sour / Strong Lemon Sour / Lemon? Lemon Sour / Lemon Tower / Goldfish Lemon Sour
· ★ 【31 kinds of lemon sour】 BEAUTY × ASIA
· Pakuchi Lemon Sour / Tom Yam Lemon Sour / Lemongrass Lemon Sour / Lemon Sour / Lemon Sour / Lemon Sour / Jasmine Lemon Sour / Vegetable Lemon Sour / Lemon Sour / Coconut Lemon Sour / Sampon Lemon Sour / Plum Juice Lemon Sour
· ★ Drink drink
· Sayu Cumin / Soy Coriander / Soy Sauce Cayenne / Coffee (HOT · ICE) / Frozen Yogurt / Frozen Coke
·Soft drink
· Oolong tea / green tea / Jasmine tea / orange / apple / cola / ginger ale / calpis / lemon squash
2018/09/28 update