Course details
Beef tongue and marbled beef are OK! All kinds of meat is all you can eat ☆ Asian shabu ゞ Asian luxury full course 4500 yen ⇒ 3500 yen!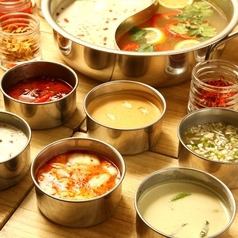 By using a coupon3500 yen
All-you-can-drink available

All-you-can-drink for 120 minutes! All-you-can-drink beer at 300 dollars · 31 kinds of lemon sour · drink drinks on request!
Reservation deadline

Until 22 o'clock on the desired date of coming to the store
Available days for reservation

Monday - Sunday - Public holidays - Holidays
All-you-can-eat all five kinds of meat, including luxurious Asian Shabu-shabu which you can eat as much as you can eat popular beef tongue! Of course soup is mazzing, Tom Yam Kung, white water etc. Provide good soup which is good for recovery from fatigue .We are satisfied with the quality of meat and soup.
Course menu
<How to eat ☆ Asian Shabu-shabu way of enjoying>
1. Choose a drink (including a drinking ceremony, so your wallet is safe ♪)
2. Choose two soups
■ Popularity No. 1 "Original Tom Yum Soup"
■ Firepot royal road ☆ Compatibility with meat Manjini favorite medicine serving in preeminent "medicinal serum soup"
■ Gastronomy Ranking 1st! Coconut milk flavor and spicey curry ◎ "Massa Man Curry Soup"
■ "White Sweet Pork Soup" which cloudy pork bone soup firmly boiled makes saltiness even more prominent
Grated on chicken glass fiber softly Ginger flavor "golden ginger soup"
■ Deep soup that used Sōda clause luxuriously "Supreme soup"
3. Choose whatever you want until the pan is ready
■ Raw spring roll
■ Fried Potatoes & fried chicken
■ Refreshing dessert
4 .. Choose your favorite from 14 kinds of domestic vegetables in the refrigerator ♪
~ Efficacy / Recommended Combinations ~
■ Anti-Aging "Nutrition & Beauty Recommended Set"
Evening lettuce · sweet carrots
■ Detox · Skin care effect "Pakuchi set"
Pakuchi · Mizuna
■ "Mushroom set" on a diet
Mature braise, large shimeji, thick shiitake mushroom, premises eringi, white egg
■ "Day-to-day vegetable set to enjoy the texture"
Soybean sprouts, onion greens, chicken vegetables
■ Immune power UP "sweetness stands out vegetable set"
Young cabbage · Sweet carrot · Evening lettuce
■ Perfect for dealing
Beef wheat's flat noodle
5. Beef tongue is added and upgraded ♪ All you can eat meat!
Beef tongue, marbled beef, lamb, pork ribs, pork loin
All-you-can-drink menu
·beer
· ★ Premium Malts · Aroma Ale / Barley / Chandigafu / Black Eye
·wine
· Glass wine (red · white) / keel / kitty / carimocho / spritzer / wine cooler / homemade sangria / operator
· Shochu
· Sweet potato / wheat (water split · rock · carbonate · straight)
· [Choose cocktail 5 × 13]
· 【Strawberry wine · plum wine · peach wine · pine wine · cassis sake】 × 【carbonated water · water · rock · oolong tea · green tea · jasmine tea · apple juice · orange juice · grapefruit juice · cola · ginger ale · milk · whitewater 】
·Cocktail
· Mojito / Ginger Mojito / Mosccommure / Gin Tonic / Vegetable Sour / Kalua Milk / Lime Sour / Grapefruit Sour / Lime Sour / Oolong Hi / Green Tea High / Jasmine High
·Highball
· Super carbonate gym beam high ball / super carbonate angle high ball / beam lemon high ball / beam ginger high ball / beam cola high ball
· Original cocktail
· Tropical View / Ajima / Pastel Milk / Sea Suma Time / Legend B
· ★ 【31 lemon sour】 BASIC
· Punch Lemon Sour / Salmon Lemon Sour / Lemon Sour / Ice Lemon Sour / Grated Lemon Sour / Sherbet Lemon Sour
· ★ 【31 lemon sour】 cocktail +
· Coke "Lemon Sour / Ginger Lemon Sour / Lychee Lemon Sour / Cassis Lemon Sour / Mojito Lemon Sour / Calpis Lemon Sour / Vial Lemon Sour / Malibu Lemon Sour
· ★ 【31 kinds of lemon sour】 Original
· Gali Lemon Sour / Otsuka Lemon Sour / Strong Lemon Sour / Lemon? Lemon Sour / Lemon Tower / Goldfish Lemon Sour
· ★ 【31 kinds of lemon sour】 BEAUTY × ASIA
· Pakuchi Lemon Sour / Tom Yam Lemon Sour / Lemongrass Lemon Sour / Lemon Sour / Lemon Sour / Lemon Sour / Jasmine Lemon Sour / Vegetable Lemon Sour / Lemon Sour / Coconut Lemon Sour / Sampon Lemon Sour / Plum Juice Lemon Sour
· ★ Drink drink
· Sayu Cumin / Soy Coriander / Soy Sauce Cayenne / Coffee (HOT · ICE) / Frozen Yogurt / Frozen Coke
·Soft drink
· Oolong tea / green tea / Jasmine tea / orange / apple / cola / ginger ale / calpis / lemon squash
2018/11/26 update